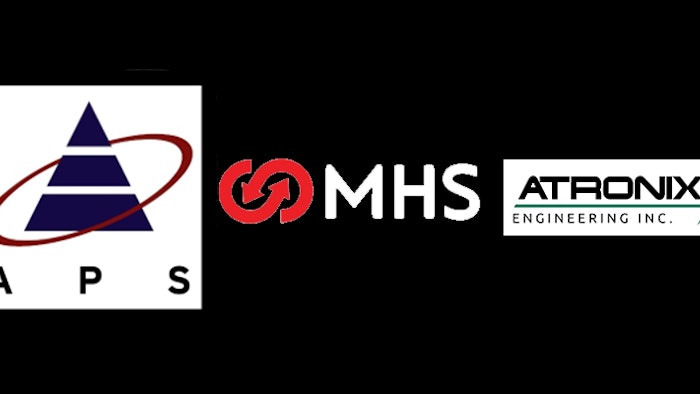 Material Handling Systems, Inc., a provider of advanced parcel sortation systems engineering and equipment, announced it has acquired Atronix Engineering, Inc., a controls systems integrator, and Advanced Production Systems, Inc., a specialist in engineering, design and assembly of control panels.
"We are excited to welcome Atronix and APS to the MHS family, and believe that these acquisitions will further expand our geographical and customer footprint, product portfolio, and service offerings," said Tony Mouser, Chief Executive Officer of MHS. "We have long-standing relationships with both Atronix and APS, and we are confident that a partnership with these fine companies will serve as a catalyst to further accelerate our growth, enhance our ability to serve our key customers, and pursue new business opportunities. Atronix and APS will have our full support in continuing to serve all of their respective customers — delivering on projects currently underway as well as those in the pipeline — at the same high standards of excellence and commitment to customer satisfaction for which they are known and respected."
Based in Atlanta, GA, Atronix has been solving complex controls and software issues for some of the nation's leading companies since 1992. Atronix responds to system integration demands for both factory automation and office automation and provides custom solutions to a variety of markets, including: material handling, warehouse distribution, automotive, food and beverage, among others.
"For 25 years, Atronix has shown tremendous growth and leadership in systems integration by providing its customers with best-in-class, cost-effective engineering services. We look forward to working alongside Tony and the talented MHS team as we continue to design custom systems that meet the specific needs of our clients," said Tab Fischbach, President of Atronix.
APS was founded in Louisville, KY in 1986. With more than 200 years of experience amongst the leadership team and electrical technicians, APS has the capability to engineer, design, and build control panels in a number of industries, including: machine builders and OEMs, food and beverage, automotive, material handling, metals, personal care products, and process control.
"At APS, our strategy has been to operate with the highest standards while meeting our clients' most critical requirements in control panel engineering and design. We are very pleased to align with MHS and believe that our teams are a great fit with a shared approach to service and customer satisfaction," said Don Korfhage, President of APS.
The APS acquisition closed on October 2, and the Atronix acquisition closed on October 31. Financial terms for the transactions were not disclosed.
In April 2017, MHS announced that it had entered into an agreement to recapitalize in partnership with Thomas H. Lee Partners, L.P., a private equity firm investing in middle market growth companies, making THL the majority owner of MHS.