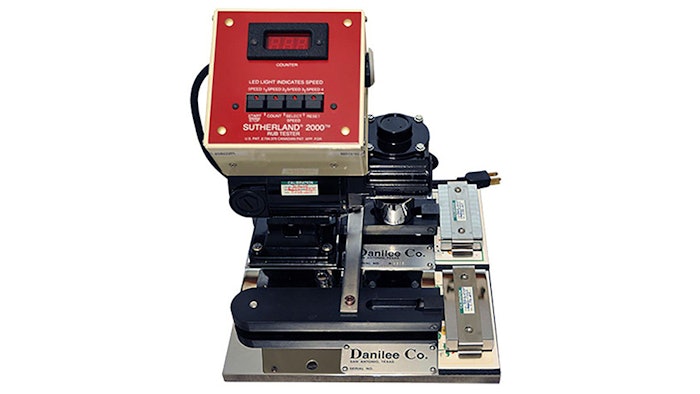 The SUTHERLAND 2000 "Dual" Tester provides the same robust functionality of a single tester while adding the ability to test two specimens side by side. This allows exact duplication of speed and resistance when comparing test results simultaneously. When a large amount of testing is to be completed, the SUTHERLAND 2000 "Dual" Tester provides a timely application as well as maintaining a reasonable budget short of requiring two separate testing units.

It also provides more flexibility within the test; for example you can run a test using a two-pound and four-pound weight at the same time or different receptors on each weight to compare how different abrasive surfaces affect the test specimen.
Applications
For printed labels, the rub test gauges the amount of abrasion or scuff that may result during shipping, handling or storage. The test may be used for the labels of pharmaceutical products and medical devices, as well as the characters on keypads, for example. These labels must be legible and stand up to wear over time.
In the textile industry, a rub test determines the colorfastness of the color or dye in a fabric. It is an essential test. Fastness to rubbing also determines how well a fabric will resist stains. A test for fastness to rubbing can be performed on dry or wet fabric.
If a fabric has good colorfastness, it is likely that it will resist fading when washed. Good marks on the rub test also indicate that a fabric is durable. The rating scale is Grade 1 to Grade 5, with 1 being a high degree of color transfer and 5 being no color transfer. Factors affecting the outcome of this test are how well the fabric is made, its color, its darkness, and how it will be used.
Item Nos. AB-010321, AB-010341