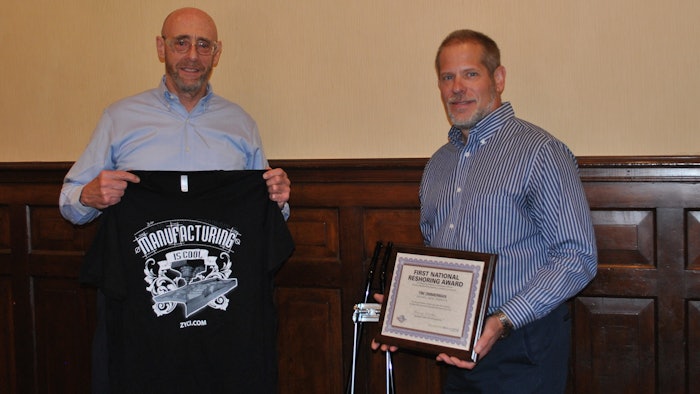 Mitchell Metal Products of Merrill, WI has received the first National Reshoring Award in recognition of the company's success bringing manufacturing back home to the United States. The award, given by The Reshoring Initiative and the Precision Metalforming Association (PMA), honors a company that has effectively reshored products, parts or tooling made primarily by metal forming, fabricating or machining.
Mitchell Metal Products was selected after using reshoring to complete more end products with less lead time. In 2016, the company manufactured a cultivator handle subassembly product, increasing the production volume from 4,500 made overseas to 30,000 made in Wisconsin.
"We are thrilled and honored to receive the first National Reshoring Award," said Tim Zimmerman, president of Mitchell Metal Products. "By utilizing the total cost of ownership approach pioneered by The Reshoring Initiative, we have won a number of value-added contracts and brought work back home. We are proud to be delivering high-quality products to our customers and creating good jobs here in Wisconsin. Right now, eight percent of our workforce is employed because of products we have helped to reshore."
The award was presented in Milwaukee, Wisconsin, on September 28, 2017, at Sourcing Solutions™, a popular procurement program hosted by PMA. This premier sourcing event brought together buyers and engineers from top manufacturing companies with pre-screened suppliers, enabling companies to find the most competitive resources for their projects.
The 2018 National Reshoring Award will be presented next fall during Sourcing Solutions. Additional details about the event will be available in early 2018.
"We are proud to be a sponsor of the National Reshoring Award and to celebrate companies who are contributing to the strength of the American manufacturing sector," said Allison Grealis, vice president of membership and association services at PMA. "Through Sourcing Solutions and other efforts, PMA is committed to supporting manufacturers in their quest to find local, competitive suppliers and keep work here at home."
"I was delighted that the winning product was a relatively conventional item, instead of being an advanced aerospace or electronics component," said Harry Moser, founder and president of The Reshoring Initiative. "Mitchell's success demonstrates that large portions of offshored work are eligible to be reshored."