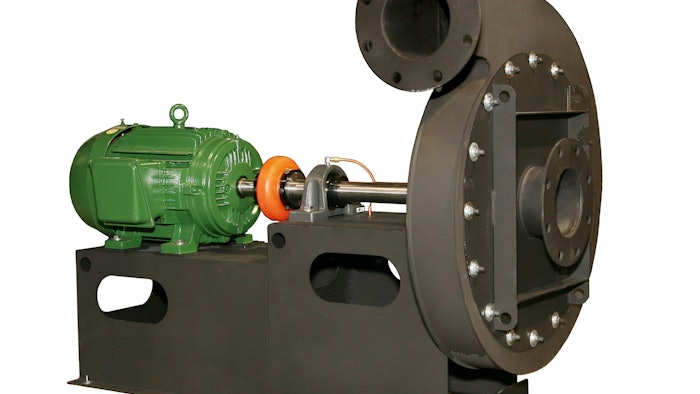 Ideal for higher pressure combustion air, air pollution control, and textile applications

Howden American Fan Company, the leading manufacturer of high-quality industrial fans and blowers, announces its line of turbo pressure blowers, ideal for higher pressure systems in combustion air, air pollution control, textile fiber stripping, recycling applications, as well as countless chemical, pulp and paper, glass, and food processing industry applications. With a wide range of accessories, Howden American Fans customizes the turbo pressure blowers to each individual customer's system requirements – while maintaining a lead time of less than 10 working days.

Howden offers turbo pressure blowers for pressures to 80 inches static pressure water gauge (SPWG), with capacities up to 8000 cubic feet per minute (CFM). The fans are available with a wide variety of materials, wheel types, fan arrangements, and sensors. Experts review the required performance and air conditions for each application, and then select the right size fan and appropriate accessories. Application-specific features are added as necessary, for example, stainless steel or other alloy airstream, corrosion-resistant materials and coatings, high temperature or spark-resistant construction, companion flanges to match ductwork, and pressure gauges.

Howden American Fan's turbo pressure blowers are constructed from heavy gage continuously welded housings, which are reversible and rotatable. Round inlet and outlets feature flanges drilled to match ANSI 150 # pipe flanges (outlet flange standard). Dynamically balanced wheels ensure smooth operation. Three inlet types are available – stub pipe, flanged or venturi (standard). Lifting eyes are standard to guarantee handling ease.

About Howden American Fan Company
Howden American Fan Company is the leading manufacturer of high quality industrial fans and blowers that set the standard within the industry. Howden supplies axial fans, centrifugal fans, and blowers for a wide range of industries, including marine, industrial manufacturing, and building and construction. Located near Cincinnati, OH, Howden American Fan is part of the Howden Industrial Fan Group, made up of American Fan, Joy Fan, and Garden City Fan.