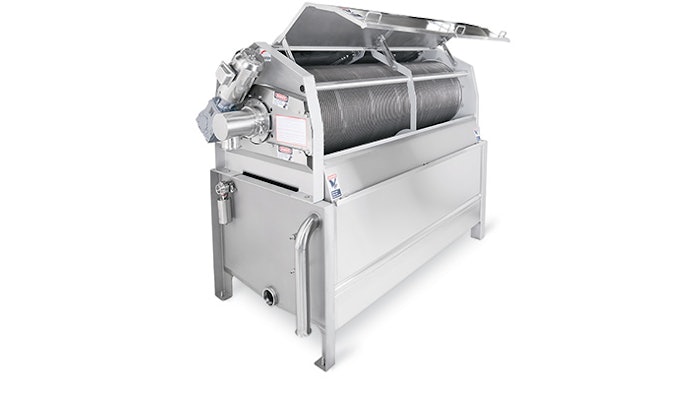 The poultry and beef industries are becoming more cognizant of saving water and, at the same time, saving money by reusing their wastewater, thanks to the new Sanitary Zero Maintenance Screen from Lyco Manufacturing.
As municipalities and other agencies push for tighter limits on the disposal of wastewater, poultry and beef producers are looking for new ways to meet these wastewater mandates. The Sanitary Zero Maintenance Screen is a perfect solution as it filters wastewater and reclaims it for new uses back in the food processing systems. This limits food manufacturers' amount of wastewater discharge, while also saving them money.
The Sanitary Zero Maintenance Screen features the industry's most sanitary rotary drum screen, which can filter up to 400 gallons of water per minute for reuse. This savings in water, when spread out over 12 months, means the Sanitary Zero Maintenance Screen can pay for itself in just a year.
The machine comes with an advanced dual canister filtering system with screens to capture particulates as small as 200 microns, making the water clean enough to be used a second time. To clean the unibody-designed screens, simply purge the system and it's ready for operation. The zero-maintenance screens eliminate daily lubrication of bearings, and on average last three to four years before replacement is required.
Three sizes of screens are available that can handle 50 gallons up to 400 gallons per minute, giving customers the flexibility to select the right size for their application.
The new Sanitary Zero Maintenance Screen design comes with several features, making the machine easy to clean. The end plates come with added clearance for ample access for cleaning and inspection; clean-in-place system with spray balls; side opening doors for complete access to the tank; and standoffs to eliminate hidden surfaces.
Features and benefits of the new Sanitary Zero Maintenance Screen include:
Cutting industrial waste and creates a secondary revenue stream
Thermoplastic main discharge bearing eliminates lubricants
Solid, one-piece running ring for true performance
Dual or Single active filters
Lowering chemical usage in post water treatment
Wedge-wire screen, round hole perforation, and wire mesh screen options
Rapid filter change options
Auto pressure purge option
Change plugged filters on the fly
PLC controls optional
Lyco Manufacturing  www.LycoMfg.com