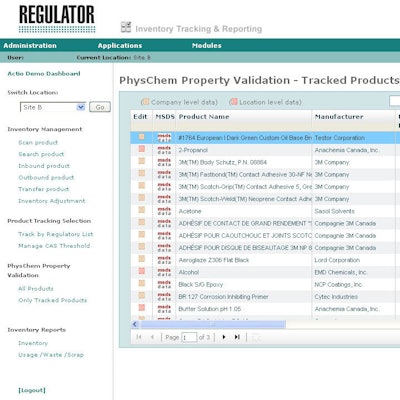 Actio Corporation recently released the latest version of Actio Regulator®, a software package designed to calculate chemical inventory, usage, emissions, chemical mixtures, scrap and waste, as well as incoming and outgoing distribution volumes. The software:
Organizes all ingredient data, which is auto-updated via ERP feed.
Provides analysis, reports and visibility into precise ingredient amounts in standardized measurements that are compared against regulation thresholds for HAPs, VOCs and SVHCs.
Has updated functionality that allows manufacturers to better automate screening of raw materials at the product and substance level.
Has a redesigned and reorganized user interface with one-click drop-down-menu access to: HAPtracker module for analysis of and visibility into Hazardous Air Pollutants or HAPs; VOCtracker module for analysis of and visibility into Volatile Organic Compounds or VOCs; SARA 313 module for Toxic Chemical Release Inventory regulation and reporting; EHS module for regulating and reporting on Extremely Hazardous Substances or EHSs; REACH SVHC module for managing and reporting on Substances of very high concern under REACH regulation in Europe.
Improves Excel export functionality.