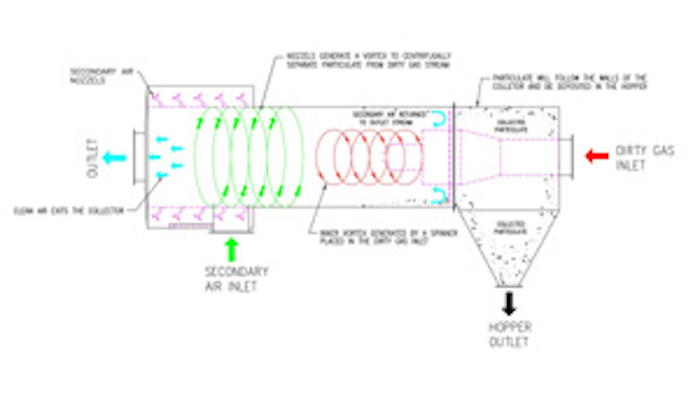 Aerodyne has designed its SplitStream™ dust collector to fit into the limited spaces available in many plants by uniquely configuring vertically or horizontally without negatively impacting collection efficiency. As the dirty gas stream enters the dust collector chamber, a stationary spinner imparts a rotation to the gas stream, and centrifugal force throws the collected particulate toward the outer walls where it is intercepted by a secondary gas stream and forced toward the hopper. The secondary gas stream keeps particulate away from the dust collector housing, eliminating the need for abrasion-resistant materials or extra heavy construction. It is the secondary air stream that encourages the movement of particulate toward the hopper, which allows for horizontal installation and increases the efficiency of the dust collector, especially with fine particles. Other benefits of this counter-cyclonic dust collector include:
Easy installation in existing facilities or new locations.
The ability to install this collector indoors, thus providing protection from the weather, as well as preventing condensation.
The flexibility to be suspended from a ceiling when horizontally installed, conserving valuable space on the manufacturing floor.
Simple maintenance without the use of tall scaffolding, which can pose a safety hazard to workers.