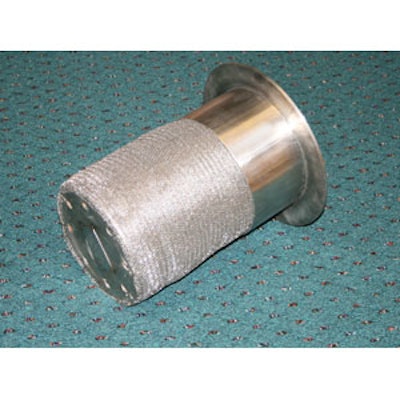 AMISTCO Separation Products introduces its MistFix® insertion mist eliminator to provide a quick and economical solution for those who do not wish to cut into separation vessels to replace a mist eliminator, or to reduce carryover in an existing vessel without a mist eliminator. The MistFix, according to the company, further grants:
The carryover of liquid-rich vapors that can be quickly and significantly reduced.
Substantial added surface area, which increases separating efficiency.
The power to diminish entrainment from numerous knockout vessels in the field (although the company admits the inserts remain limited by their pad thickness).
Elimination of the necessity to cut, weld or re-pipe the vessel.
Easy installation — simply insert the cylindrical MistFix into the discharge nozzle.
Material length and width, and pad construction determined by your process conditions, as well as the dimensions of the nozzle and vessel diameter.
No need to re-certify the vessels to ASME standards.