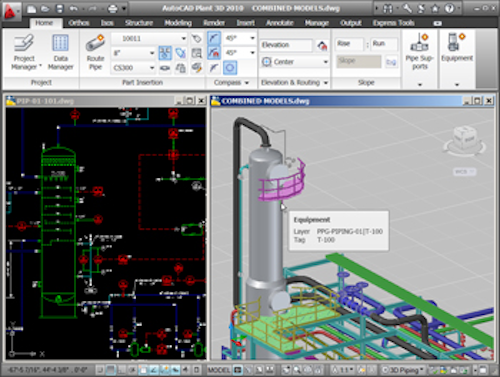 Autodesk, Inc. has released AutoCAD Plant 3D 2010, a software product that applies model-based design to mainstream plant design projects. Purpose-built for the design, modeling and documentation of process plants, AutoCAD Plant 3D makes modern 3D design more affordable and accessible to project teams. The software:
Allows project teams to increase productivity, and improve accuracy and coordination of shared information.
Uses specification-driven design and standard parts catalogs to help streamline the placement of piping, equipment, and support structures.
Has Integrated AutoCAD P&ID functionality and quick generation of isometric and orthographic drawings.
Joins AutoCAD, AutoCAD P&ID, and Autodesk Navisworks software products.
AutoCAD Exchange Plant community where users can network, learn from experts, enhance professional skills, engage in discussions and provide feedback to Autodesk product teams.
www.autodesk.com/autocadplant3d