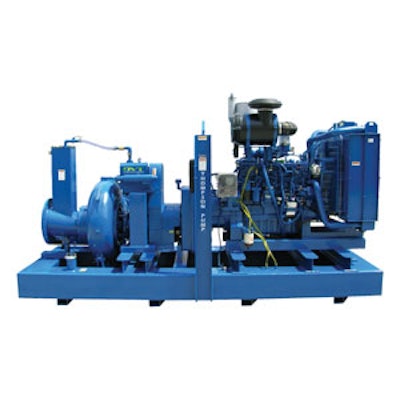 According to Thompson Pump, its oil-less vacuum technology priming system permits a basic pump to prime automatically and more efficiently for lower maintenance, higher air handling and faster priming. Moreover, the OVT system offers:
Sizes from 4 to 18 inches.
Flows to 11,000 GPM.
Air handling to 97 CFM.
28.4 inHg vacuum capacity.
High heads to 350 feet.
Solids handling up to 4 inches.
The Enviroprime® system.
Dry-running capabilities — no sealing or lubricating oil is needed in the pump chamber.
Non-contacting rotors that eliminate internal wear for longevity and low life-cycle costs.
Air cooling — no water levels to check and no oil system to maintain.
Suitability for solids and liquids.
The power to maintain vacuum at lower speeds.
The elimination of oil pollution and smoke.
Accommodations to be easily added to any Thompson centrifugal pump.
Low maintenance — the unit only requires servicing at 20,000-hour intervals.
No decrease in performance over time.
Availability of electric- or diesel-driven models, automatic start/stop controls for fuel savings and Silent Knight® sound attenuation.