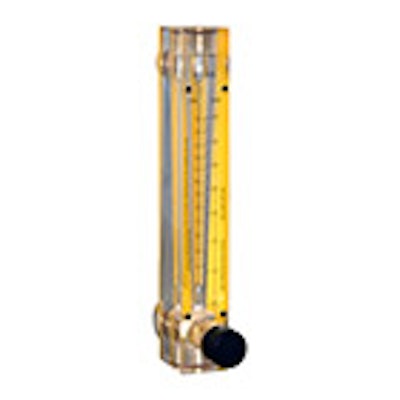 Dakota Instruments' 6A02 acrylic meters are being offered with any one of the interchangeable direct reading scales for water, argon,
oxygen, carbon dioxide, nitrogen and helium. Scales are mounted at the front of the flow body and are positioned and secured by a clear front plate held in place by four screws. A low hysteresis, multi-turn needle valve is included. Dual scales display flow rates in both metric and English units. Long scales facilitate high resolution readings.
ACRU SPECIFICATIONS
ACCURACY: ±3% FS
CONNECTIONS: 3/8" Female NPT.
MAXIMUM TEMPERATURE: 150°F/ 65°C Maximum.
MAXIMUM PRESSURE: 100 psi/6.89 Bar Maximum.
FLOAT AND GUIDE: 316 Stainless Steel.
INLET/OUTLET CONNECTIONS: Brass.
PANEL MOUNTING: Polypropylene® Nuts.
VALVE PARTS: Brass.