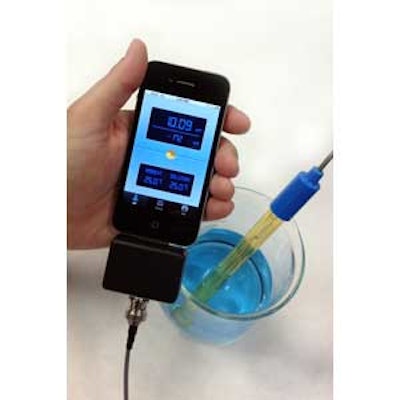 Sensorex has developed an industry-first mobile accessory that is compatible with Apple™ iPod®, iPhone® and iPad® devices for pH measurements. The company says that the PH-1 pH meter accessory is further illustrated by:
The power to plug into a standard Apple dock connector and use a Sensorex pH electrode to measure pH with an accuracy to .01 pH.
A measurement range from 0 to 14 pH and operation in ambient temperatures of 0° to 40°C in solutions of 0° to 100°C.
The display of pH, millivolts, ambient temperature and solution temperature in real time.
Support for 1, 2, 3 or more calibration points.
The ability to send readings by email for later analysis.

 

The flexibility to group data history by date or location, and export individually or in .csv format via email.
The capability to measure and record pH values in the lab or field for use in environmental, educational and industrial applications.
Power via the Apple device.
A CE marking.
The capacity to record measurements with both timestamp and geographic coordinates when used with a GPS-enabled device, thereby eliminating transcription errors and improving efficiency.