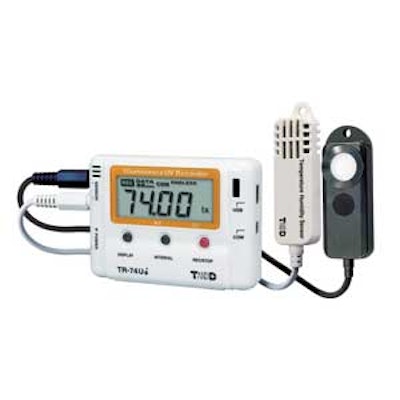 T&D Corp. presents its high-precision TR-74Ui-H 4-parameter data logger to not only achieve a temperature measurement accuracy of ±0.3°C (between 10° to 40°C) with an overall range of -30° to 80°C, but also to deliver:
The Illuminance UV recorder that can simultaneously measure and record 4 parameters, including illuminance, ultraviolet (UV) light, temperature and humidity.
A humidity measurement accuracy of ±2.5 percent (at 25°C, 10 to 85 percent RH) with an overall range of 0 to 99 percent RH.
A luminosity range from 0 to 130,000 lux and low-light resolution to 0.01 lux.
A UV range from 0 to 30 MW/cm2.
A large data capacity that can store up to 8,000 readings times 4 channels for a total of 32,000 readings in 1-time or endless recording mode.
An LCD display that indicates the cumulative illuminance and the cumulative amount of ultraviolet light.
Quick downloaded of recorded data with the easy-to-use software simply by connecting to a computer via a USB port.
Internal accumulation of exposure for both light and UV.
A lightweight design measuring approximately 2 by 3 inches.
Operation on 1 AA battery.