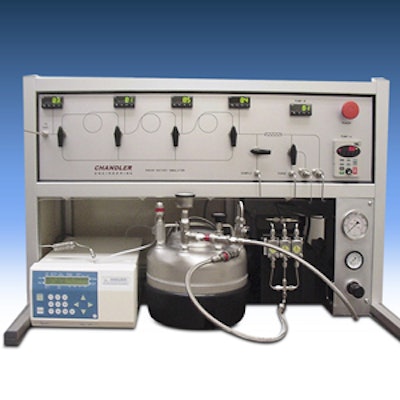 Chandler Engineering's Model 5600 Shear History Simulator (SHS) system greatly simplifies the process of preparing and loading water-based fracturing fluids dynamically into rotational viscometers for testing. The company says that the simulator — which consists of a pressurized fluid reservoir, two injection pumps and three capillaries — works by:
Fluid is pumped through the capillaries at various rates and durations to simulate pumping conditions experienced during fracture simulation treatments.

A valve panel with a graphical representation of flow paths allows users to configure the instrument to simulate a broad range of well conditions.

The process begins with a gel-based fluid that is placed into a pressurized supply reservoir that delivers fluid to an injection pump.

The system is equipped with easy connecting couplings and flexible hoses.

Pressure is applied to the reservoir using a panel-mounted air regulator.

A high-pressure, corrosion-resistant, stainless steel triplex injection pump driven by a gear motor and controlled by a frequency drive controller delivers 0 to 100 ml/min of fluid, while a second stainless steel pump delivers 0-9.99 ml/min of crosslinker additive.

  

An optional sample vessel is available for use with particle-laden crosslinker additives.

 

The two fluids are combined in a micro-volume mixing tee, which flows directly into a multi-element kinetic mixer for thorough homogenization.

The combined fluids then travel through the series of capillaries.

Using selector valves on the front panel, the flow path can be configured between one, two or three capillary sections.

 

Pressure transducers located at the entrance and exit of each capillary accurately monitor fluid pressures between capillaries.

 

Digital indicators display each pressure on the front panel.

The system can be operated manually as a stand-alone unit or run using Chandler's SHS software, which monitors and records all measured parameters such as pump rate and pressure.