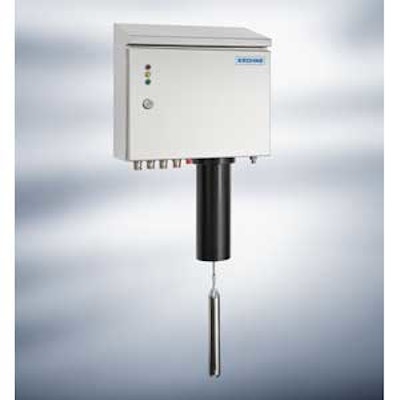 KROHNE now offers the OPTISYS SLM 2080 optical sludge blanket measurement system to accurately and reliably measure blanket depth, separation zone, and swirled solids (fluff zone) depth using optical suspended-solids measuring technology. According to the company, alongside of a low cost of ownership, low maintenance requirements, reliable measuring results, and ease of use, the OPTISYS SLM 2080 additionally boasts:
Direct, continuous measurement of suspended solids content using optical sensors, and 24-hour automated monitoring and control.
Precise control when filling the thickener, allowing operators to increase the suspended solids content of sludge fed to the digester, thereby reducing the amount of water that has to be heated in the digestion towers, reducing digestion tower energy costs.
The ability to warn operators early for sedimentation problems and prevent sludge washout.
Digital sensor technology to provide reliable signal transmission with pre-calibrated sensors that make installation fast and easy.
Energy savings achieved by optimizing pre-thickening of the sludge.
Automatic flushing of the sensor and cable after each measuring cycle.
A rake guard switch to protect the sensor from being caught by the rake.
A robust stainless steel IP 55 housing with an integrated heater for outdoor installations.
Suitability for continuous measurement of industrial and municipal wastewater sludge and sludge settlement monitoring, and control of return-activated sludge and waste-activated sludge.
The inclusion of cleaning equipment, fasteners, cables and flush hoses.