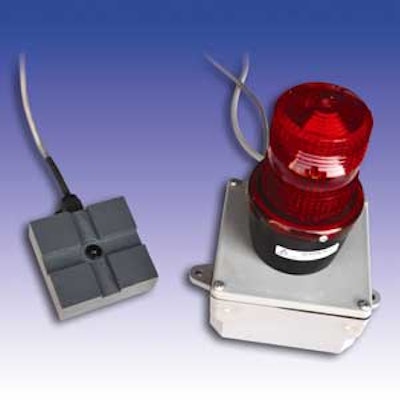 Scaletron Industries introduces a spill alarm for use with its full line of spill containment scales. The company says that the spill alarm also offers:
A phototransistor to detect spills and activate a relay switch, which may be used to trigger a light or an audible alarm, and that is readily integrated via a PLC with other equipment facilitating automatic shutdowns, lockouts and other safety procedures.
Ample reaction time to stop leaks, and thereby prevent damage to the scale and other equipment, and minimize worker exposure time to potentially dangerous chemicals.
Instant detection of changes in ambient light properties when a spill or leak occurs.
The ability to measure the volume of chemical, while the alarm immediately triggers the relay signal, setting in motion safety and maintenance processes.
An integrated collection basin, which houses the alarm, where leaks and spills are first detectable.
A spill basin mounted directly under the scale with the alarm in the bottom of the basin, so the scale integrity and function is safeguarded from spills and leaks.
Opto-electric operation, unlike mechanical alarms with moving parts that can jam or become loose.
A corrosion-proof plastic dome to encase the phototransistor.
Power via the scale, operating off of 5 or 12 VDC, depending on the indicator of the specific model of scale in use.
Contacts rated for 5 A at 30 VDC and 5 A at 120 VAC.
The flexibility to be used with 3-1/2-digit, 4-1/2-digit, 1020 and 1099 scale indicators.
Suitability for industrial and chemical process applications.
WEFTEC Booth #4276