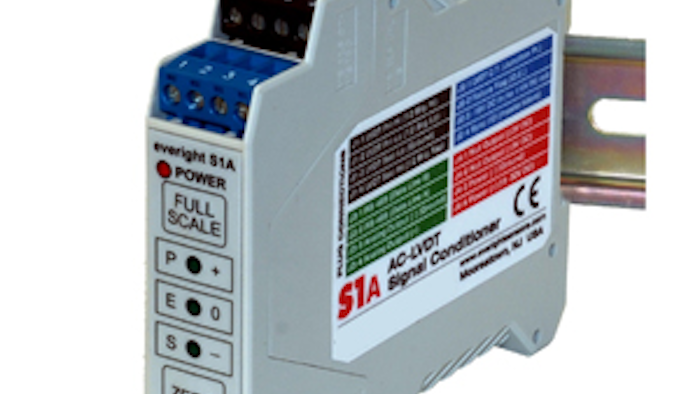 Alliance Sensors Group introduces the S1A AC-LVDT signal conditioner with smart and fast LVDT setup, built-in null indication and simple front panel pushbuttons to set zero and full scale. The company says that the conditioner further offers:
Engineered to work with the widest range of AC-LVDTs, RVDTs and inductive half-bridge sensors including 3-wire GE LVRTs and gas turbine LVDTs, the S1A DIN rail module supports LVDT operation and indicates most common failures.

 

The S1A offers a choice of four excitation frequencies, eight analog DC outputs (six DC voltage and two current loop outputs) and RS-485 digital communications.

 

Ideal applications for the module include turbine control systems, steam valve position feedback, and other types of redundant control systems that use LVDT position sensors.

The internal microprocessor eliminates the need to calculate jumper connections for gain, range, etc.

In the event of a failure, a new S1A DIN rail module can be "hot swapped" into an existing installation, with initial calibration data saved then reloaded via RS-485 port.

 

For installations where there are multiple position sensors, the S1As can be master/slaved to prevent cross talk between sensor signals.