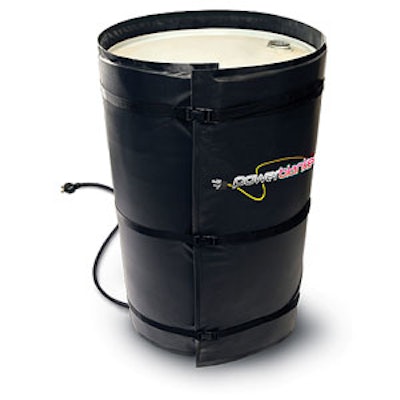 The Powerblanket® line of drum and bucket warmers replaces conventional band heaters, warming ovens and blowers for heating temperature-sensitive materials stored in plastic, metal and other containers. The company says that the blankets are characterized by:
Utilizing patented GreenHeatTM technology, the heaters are an energy- and cost-efficient solution for maintaining viscosity and flow for stored liquids.

GreenHeat Technology allows containers to be rapidly and consistently warmed without creating the hot and cold spots common with competitive products.

The drum and bucket warmers provide maximum freeze protection by maintaining a desired temperature through an evenly heated area.

The insulated, full-wrap design keeps heat in and cold out, working on both metal and poly drums and buckets year-round.

By evenly maintaining temperatures, the warmers prevent product waste and reduce downtime.

They operate from a standard 120-volt electrical source and are certified to UL/CSA/CE safety standards.

The product line fits 55-, 30- and 15-gallon drums and 5-gallon buckets.

A PRO model comes with an adjustable thermostatic controller that allows customers to set and manage material temperatures from ambient up to 160

°F/71°C (

±2

°

F/1

°C

).

The Rapid Ramp model will quickly heat and keep materials at a temperature of 100

°F/ 8°C (

±10

°

F/6

°C

).
info@powerblanket.com

www.powerblanket.com