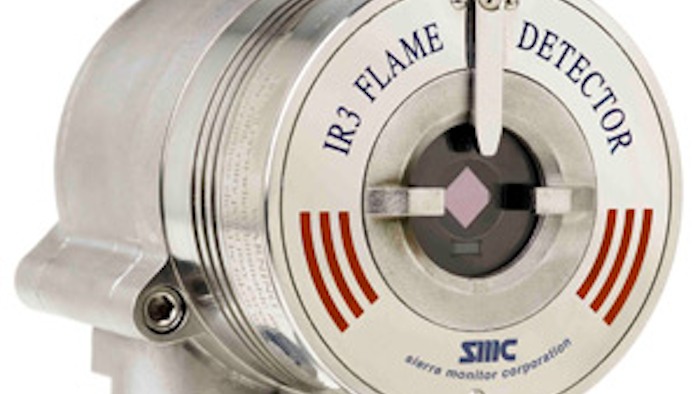 Sierra Monitor's 3600-I Triple IR (IR3) flame detector not only detects fuel and gas fires at long distances, but also detects a 1-square-foot (0.1-m2) gasoline pan fire at 215 feet (65 m) in less than 5 seconds. According to the company, the IR3 is additionally highlighted by:
A triple-spectrum design for long-distance detection and high false-alarm immunity.
Sensitivity selection to ensure no zone crossover detection.
A heated window to eliminate condensation and icing in harsh weather conditions.
HART capabilities for digital communications for maintenance and asset management.
Automatic and manual built-in testing for continuous reliable operation.
Multiple output options for maximum flexibility and compatibility.
An alarm, fault and auxiliary relay.
A minimum mean time between failure of 150,000 hours.
Lower power requirements.
A compact, lightweight, yet durable and weather-resistant design.
A 2-year warranty.