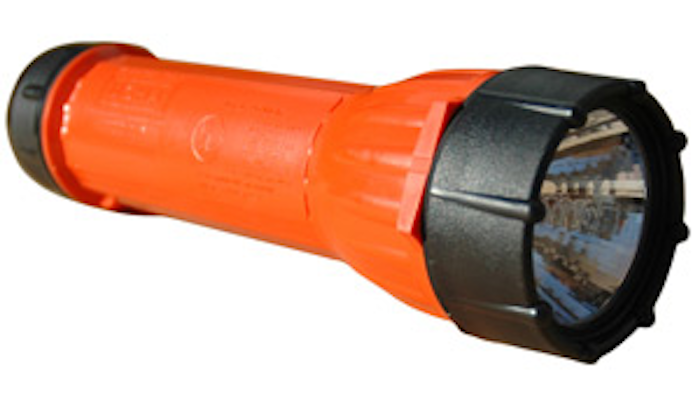 Larson Electronics' LXFlashlights.com now offers the LE-217 explosion-proof halogen flashlight, which is approved for hazardous locations, to provide an explosion-proof lighting solution without sacrificing durability or reliability. According to the company, the LE-217 also delivers:
An oversize faceted reflector that makes the most of the included PR-2 halogen bulbs' output, and helps to produce an effective 10,000 candlepower beam that is ideal for general work and inspection activities.
A heavy-duty polypropylene body for resistance to impacts.
A Tufflex lens for resistance to shattering and breakage.
A non-rolling body that stays in place when set down on flat surfaces.
An integral circuit-breaking mechanism that adds protection in environments deemed hazardous locations.
A spare bulb for quick replacement.
A rugged slide switch for easy operation.
Power via standard D-cell batteries.
Approvals for Class I, Div. 1, Group C and D, and Class I, Div. 2, Group A, B, C and D; CSA compliance; as well as compliance with ASTM and MSHA standards.