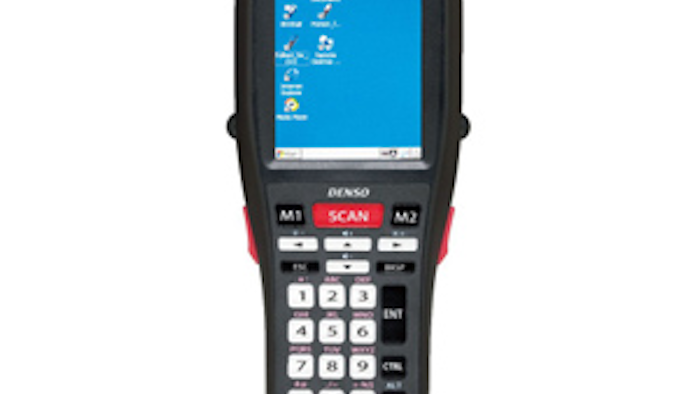 DENSO ADC's BHT-1100 series of handheld wireless barcode terminals makes barcode scanning quicker and easier, thus increasing operator efficiency. According to the company:
Advanced Scan PlusTM CCD technology can read barcodes three times faster than a laser scanner and from up to 25 feet or more away, allowing the operator to quickly and continuously scan stock shelves from floor to ceiling without having to use a stepladder.

The terminals have an expanded scan pattern, resulting in accurate scanning of even smeared barcodes or those that have become partially obscured by dirt.

The terminals' ergonomic design features a large, easy-to-read screen and a slim, easy-to-hold grip, to reduce operator fatigue.

A specially designed scan angle, based on studies of units in actual operation, minimizes screen glare and provides high readability under varying lighting conditions, helping prevent eyestrain.

Wide-area 802.11b/g/n wireless coverage and high-speed data transmission make communication quicker and easier.

An optional built-in digital camera allows the operator to take photos of defective goods during inspection, eliminating the need to carry a separate camera.

The rugged construction includes shock-absorbent material molded onto the terminal's head, to prevent damage due to bumping or dropping, as well as wear-resistant lettering on the keys.

The devices have been tested to withstand being dropped onto concrete 60 times from a height of 1.5 meters (5 feet).