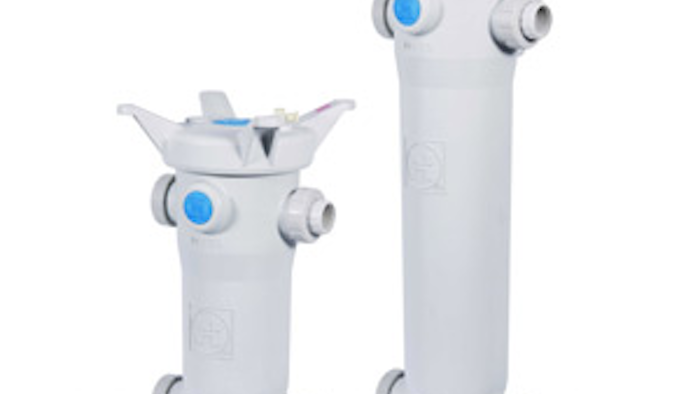 Hayward Flow Control has launched its advanced FLV Series thermoplastic bag filter with a true-union design for multiple end connections and sizes, as well as quick installation and removal. According to the company, the FLV further features:
100-GPM flow capacity for sizes 1-1/4 to 2 inches, and 150-GPM flows for sizes from 2-1/2 to 4 inches.
A pressure rating of 150 PSI (10 BAR) non-shock at 70ºF for all sizes, in addition to a service temperature of up to 240°F (116°C).
Construction from a 1-piece, injection-molded platinum glass-filled polypropylene body in sizes 1 and 2 (16 and 32 inches). 

 

A size range from 1-1/4 through 4 inches in socket, threaded and flanged connections.
A hand-removable, ergonomic cover with a liquid displacing dome.
A hinged basket design for easy bag removal.
PVC and CPVC socket ends, plus glass-filled polypropylene threaded and flanged connections.
In-line or loop flow configurations.
A vent valve included on the cover.
A drain port on the bottom.
An integral mounting base.
The flexibility to be ordered as a Simplex through Quadplex unit.
Optional drill and tap NPT ports for interchangeability with existing installations, not to mention an optional vent gauge with a gauge guard, a pressure differential gauge and switch, and cartridge adapters.
Suitability for water and wastewater treatment, aquatic and animal life support systems, chemical processing, metal plating, food and beverage, aquaculture and commercial plumbing systems.