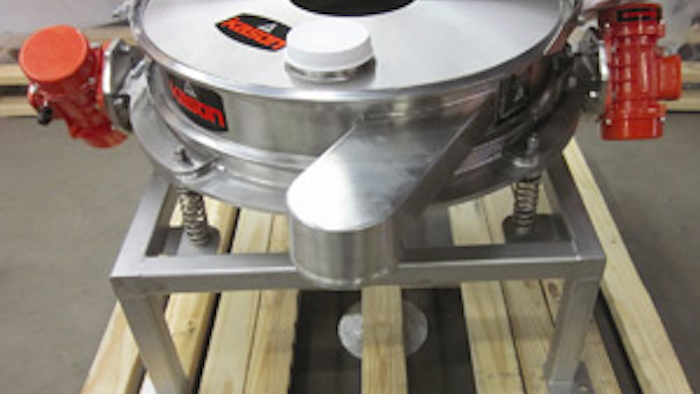 Kason Corp. recently unveiled the K30-1FT-SS ultra-sanitary sifter to minimize height requirements, while increasing screening capacity. The company says that this sifter, featuring its Vibroscreen® Flo-Thru design, also offers:
The power of on-size particles to pass rapidly through the 30-inch or 762-mm (dia.) screen in a vertical straight-through discharge path at higher rates than circular screeners having a centrally mounted gyratory motor and horizontal discharge paths.
The ability to scalp oversize particles through a screen mesh as fine as 38 microns (400 mesh).
Accommodations for dry bulk materials or solids-laden slurries.
2 unbalanced-weight gyratory motors mounted on opposing exterior sidewalls of the unit, instead of 1 motor positioned beneath the screening chamber, to reduce overall height.
A side discharge spout for oversize material through which to exit.
Quick-release clamps for rapid removal of screens and tool-free disassembly of frames for thorough washdown of components (including the motors), as well as rapid interior access for inspection and screen changes.
Stainless steel material contact surfaces, including the floor stand, with continuous welds polished to cGMP, 3-A, USDA and FDA standards.
Screen diameters from 18 to 84 inches (457 to 2,134 mm).
The flexibility to be f

urnished with a dust-tight cover.