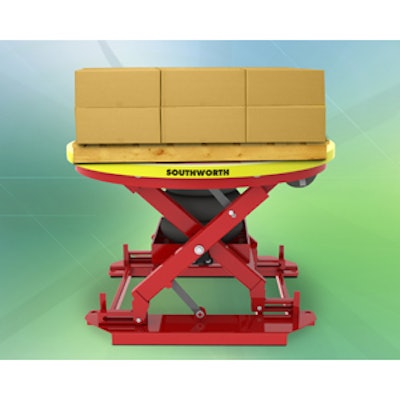 Southworth Products presents its PalletPal 360 Air level loader to build or break down pallet loads with a minimum of bending, reaching, stretching or walking around. Moroever, the company says that the PalletPal 360 provides:
Automatic adjustment of the height of pallets as boxes are added or removed, which is achieved by a heavy-duty reinforced rubber air bag that maintains the top layer of stacked containers at a convenient height.
The accommodation of loads from 400 to 4,500 pounds.

A turntable ring (or optional turntable platform) that effortlessly rotates the load, so you can stand in the same spot throughout the loading or unloading process.
The containment of all components within the diameter of the turntable ring, so you can get closer, allowing full 360º access.

Faster, safer and easier loading and unloading of pallets.
The virtual elimination of lifting and the other productivity-robbing, injury-producing movements common to pallet-loading applications.

The capability to also handle non-uniform loads
The flexibility to use the unit anywhere once the air bag is inflated by shop air or a portable compressor.

Easy relocation due to fork pockets at the base.
No need for floor lagging or electrical power.