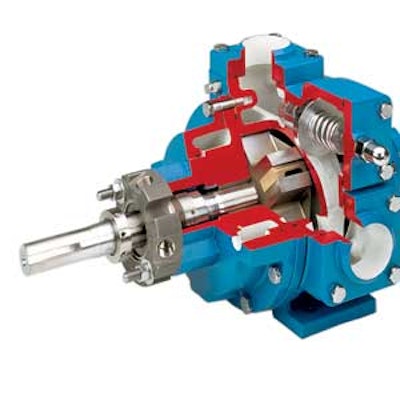 Blackmer®'s NP Series sliding-vane pumps have been designed to provide efficient transfer when handling asphalt or bitumen. According to the company, the pumps:
Are ideal for all of the different transfers of raw products from storage into the refinery, and from process to process within asphalt operations.

Can meet the needs of these demanding asphalt-handling applications because they have been designed for the handling of a wide variety of liquids at varying temperatures, pressures and viscosities.

Offer maximum versatility while sustaining a high-level of performance and trouble-free operation.

Are available in five sizes, with port sizes from 1.5 to 4 inches.

Feature flow rates from 5 to 500 gpm (19 to 1,893 lpm) at operating temperatures up to 500°F (260°C), with an optional jacketed pump head for high-temperature operating atmospheres.

Can handle viscosities ranging from 30 to 20,000 ssu (4,250 cP) at differential pressures up to 150 psi (10.3 bar) with standard construction, and, with optional materials, maximum viscosities can go to 100,000 ssu (22,000 cP) and differential pressures up to 200 PSI (13.8 bar).

Feature Blackmer's revolutionary sliding-vane operating principles, which guarantee consistent volumetric performance, even after significant in-service time, eliminating the efficiency-robbing "slip" that shortens lobe and gear-pump life.

Offer excellent self-priming and dry-run capabilities.