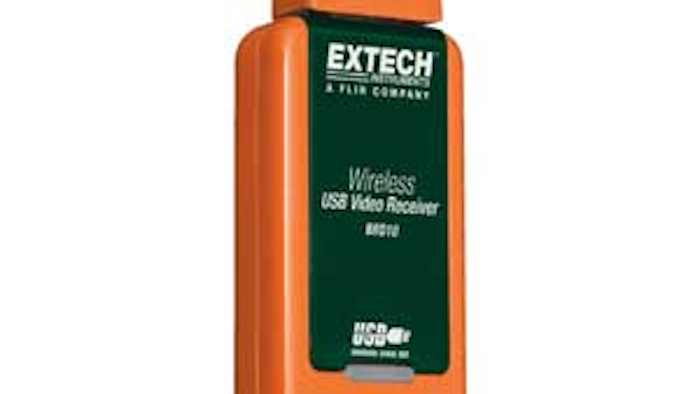 Extech's BRD10 wireless USB video receiver enables Extech borescopes to behave like a wireless webcam for real-time inspection video streaming over the Web with major Web-based services like Skype, WebEx and UStream. According to the company, characteristics include:
The receiver makes it easy to integrate borescope video in inspections and training at manufacturers with multiple sites, virtual technical training, continuing education programs, HVAC and refrigeration, electrical, automotive, energy auditing, pest control, virtual/online universities and more.

Extech borescopes can now be used for remote inspections, live Web-based training, product or service webinars and more.

The BRD10 is compatible with all popular Web-based video calling services like Skype, Cisco WebEx, Microsoft Office Live Meeting, as well as video-streaming services like DaCast, TwitchTV, VOKLE, TinyChat and uStream.

The compact USB receiver weighs less than an ounce (21g, 0.7 oz) and is about the size of a USB memory stick.

BRD10 software allows users to control video parameters like brightness, contrast, hue, saturation, frame rate and output size (megapixels), and is compatible with Windows® XP, Vista and 7.