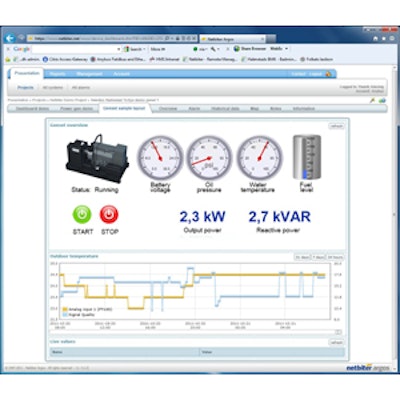 HMS offers customers free access to the Netbiter Argos remote management service, now available in nine languages. According to the company, the cloud-based Netbiter® remote management solution is characterized by:
Users can monitor and control field equipment such as power generators, wind turbines, tanks and other field applications via an office computer, laptop or smartphone.

The Netbiter Argos

online data center (www.netbiter.net) is offered as a free service.

By connecting a Netbiter communication gateway to the desired field equipment, it is possible to immediately log into Netbiter Argos, visualize all parameters of the field installation and control it remotely.

Netbiter Argos is available in nine languages: German, Italian, French, Spanish, Portuguese, Chinese and Japanese; English and Swedish versions are previously available.

Netbiter is a complete package for remote management consisting of three main elements: The first is the physical layer (a gateway attached to the remote equipment which sends and receives data), the second is the data center that collects and stores the data from the field equipment, and the third is secure access to data via an office computer, laptop or smartphone.
[email protected]

www.anybus.com