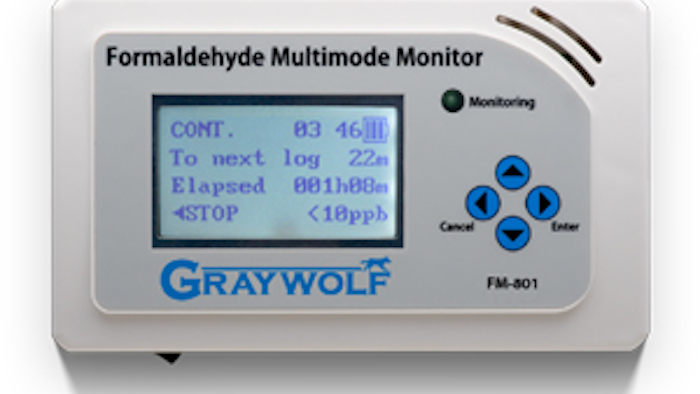 GrayWolf Sensing introduces its FM-801 continuous-measurement formaldehyde (HCHO) meter with:
Accurate formaldehyde readings from less than 20 PPB to 1 PPM — without significant cross-sensitivity.
A reusable sensor cartridge (up to 1,000 tests per cartridge at low formaldehyde levels) that employs the chemical reaction between formaldehyde and ß-diketone on a porous glass — the yellowing that results from this reaction is measured via photoelectric photometry.
The convenience of "re-zeroing" between 30-minute tests, which allows for continuous monitoring.
An output for real-time connection to the company's AdvancedSense™ meters, WolfPack™ area monitors and WolfSense™-enabled mobile PCs.
The flexibility to use the base unit as an independent data logger, with data downloaded to the company's WolfSense PC software.
The inclusion of a mini-tripod, 5 sensor cartridges, a set of alkaline batteries, an AC adapter, WolfSense PC data transfer/reporting software (on CD-ROM or USB key), a USB download cable and a hard-shell carrying case.