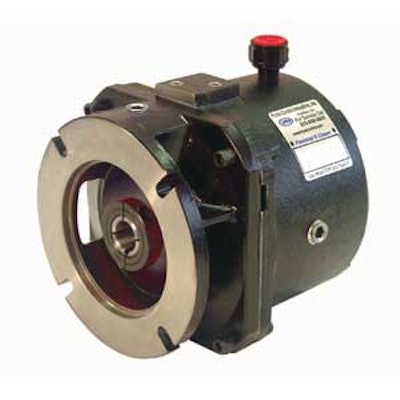 Force Control Industries Inc. has introduced Posistop X-Class air brakes for use in hazardous, combustible and explosive environments.  According to the company, the brakes are characterized by:
Ideal for use with air motors, air winches, air hoists or other air-operated machinery commonly used in potentially volatile environments.

A precise and reliable design, which assures constant torque, yet requires no adjustment or maintenance. 

Ideal suitability for manufacturing facilities where hazardous conditions exist, including gas, flour, sugar, grain, oil, gasoline and gunpowder.

Other applications include coal loading or processing facilities, offshore and land-based oil and gas wells, and ship and rail loading of hazardous materials.

Because the brake is actuated without the use of a sacrificial wear surface (as in dry braking systems), they typically last 5 to10 times longer than dry friction brakes. 

No adjustments are required, and maintenance is virtually eliminated, yielding additional savings for labor, spare parts, order costs, inventory, replacement costs and downtime.

The unique split-clamped quill with locking collar improves quill to shaft connection, thereby reducing key and key damage, and potentially saving the motor shaft.

Teflon liners used under all O-ring seals in the piston allow the O-ring to remain static, eliminating wear and cracking. 

The heavy-duty epoxy coated housings maintain sealing integrity, ensuring that no dirt, dust or moisture gets in the brake and no friction material dust gets out. 

All brakes are shipped fully assembled and tested, to ensure smooth installation and start-up, with no complex assembly required.