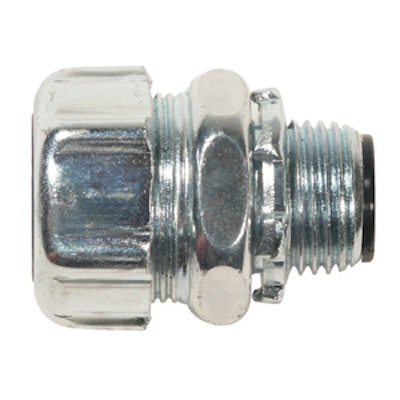 The T&B® Fittings High-/Low-Temperature Liquidtight System from Thomas & Betts protects electrical cabling from moisture in extreme temperatures from  -60 to 150° C (-76 to 302°F). According to the company, additional features include:
The system combines high-temperature rated thermoplastic Liquidtight fittings and ATX flexible metal conduit.

HT Liquidtight fittings are available in straight, 45-degree and 90-degree configurations.

All fittings in the system feature double-beveled sealing rings that are manufactured from high-temperature rated thermoplastic.

ATX Flexible Metal Conduit is able to withstand extreme temperatures with its construction of a standard core and a thermoplastic rubber jacket.

Containing no halogens, the thermoplastic material has a flammability rating of UL 98-HB.

Among the fittings' other features are Safe-Edge® Ground Cones that are designed to provide superior bonding, stronger pullout, easy threading and conductor protection.
Fittings comply with UL 514B and are available in 53® series fitting design.
An optional Revolver® Grounding lug is available, which saves time by aligning in the preferred position.