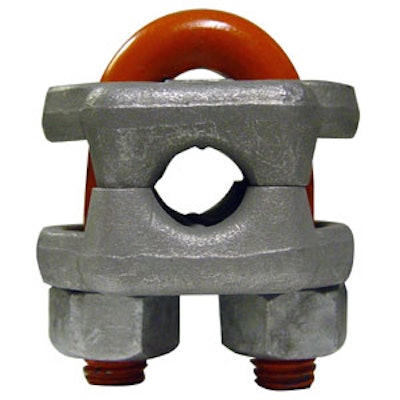 Columbus McKinnon introduces its CM bundling clip with an easy-to-assembly U-shaped design that allows fewer parts to drop. Built for heavy-duty bundling applications in the toughest industries, this clip also provides:
The ability to lift, store or move steel tubing, pipes or precast concrete, from logging roads to the oil fields.
The elimination of shear points and damage to wire rope.
The prevention of the choker from going slack and the load spreading after being unhooked.
The flexibility to be interchanged and replaced with the company's standard wire rope clip U-bolts, in addition to being reused after inspection.
Performance to rated capacities.
Compatibility with 3/4-, 7/8-, 1- and 1-1/8-inch wire rope chokers.
Forged and galvanized saddles.
Ideal suitability for harsh and demanding environments, as well as use in offshore, transfer station, pipe yards, pipe line installation, transportation, rail yard, logging, steel mill, construction site and oil field applications.
Compliance with B30.26, plus traceability.