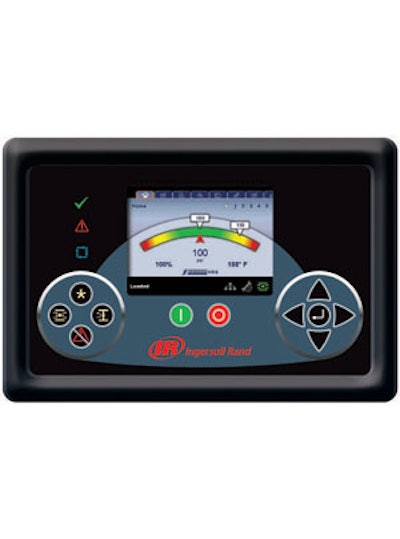 Ingersoll Rand now features Xe-Series rotary compressor control technology on the R90-160ne Nirvana VSD Premium Efficiency and R90-160n Nirvana VSD Efficiency rotary-screw air compressors to optimize plant efficiency. According to the company, the Xe-Series:
Is a more convenient and reliable monitoring system that provides a window into all vital compressor data.

Debuted last year on the R55-75ne Nirvana VSD Premium Efficiency and R55-75n Nirvana VSD Efficiency rotary screw air compressors and is now available on the larger systems.

Has an easy-to-read, high-resolution color display, an intuitive menu layout and large navigation buttons to make the system user friendly.

Features high-intensity LED indicators that clearly show the compressor's status from a distance and a real-time clock enables operators to program start and stop schedules to help reduce plant's operating costs.

Provides a performance analysis, graphics and visual trending information so controllers can track system efficiency.

Runs on 125 to 200 horsepower and maximizes energy savings through the use of the exclusive Hybrid Permanent Magnet Motor™ (HPM), which can perform unlimited starts/stops, constant pressure control and starting amps below full load to provide unmatched efficiency.