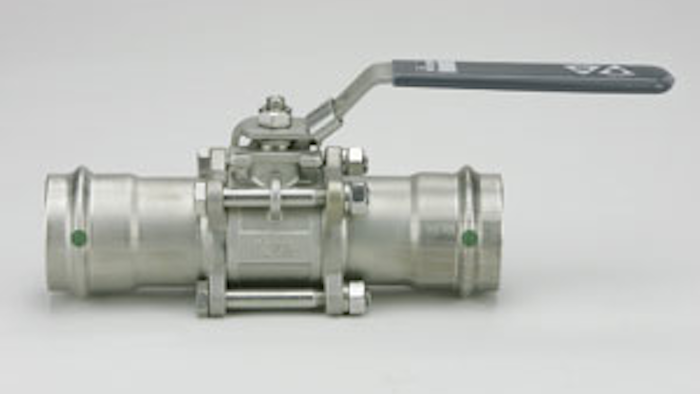 Three-piece, stainless steel ball valves are now available for use with Viega ProPress® stainless steel systems. According to the company, the valves:
Feature a new three-piece construction from high-quality, 316-grade stainless steel.

Are available in sizes of ½ to 2 inches and have a machined ISO 5211 mounting pad for actuators or operators.

Feature a full port ball on the inside, and the handle locks in two positions.

Feature press ends that include the FKM sealing element for higher temperature tolerance as well as the patented Smart Connect® feature.

Are ideal for applications such as food and beverage processing, chemical processing, pharmaceutical and biotech processing, oil and gas, mining and manufacturing.

Are part of the ProPress system, which can be installed wet or dry, making it ideal for maintenance or emergency repair jobs, reducing costly downtime by decreasing plant shutdowns.