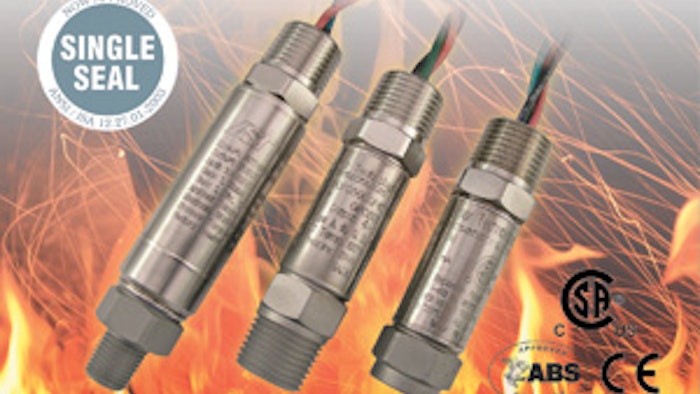 American Sensor Technologies Inc. offers its AST46HA Series of explosion-proof pressure transmitters with extended pressure ranges, enhanced construction materials and new certifications to withstand varying harsh conditions present in offshore, marine, deep-well drilling, oil processing and mining applications. According to the company, the transmitters additionally offer:
Extended pressure ranges up to 20,000 PSI.

Thick diaphragms and state-of-the-art silicon strain gages.

Repeatable results, even in the hostile environs of deep-well drilling.

Class 1, Div 1, Groups A, B, C, D approvals for acetylene and hydrogen environments.

Class 2, Div 1, Group E, F and G (dust-ignition-proof) approvals for use in mining, cement and other dusty applications.

 

ABS approval for offshore and marine applications.

A Waspalloy material option in addition to Inconel 718, 17-4 PH, Hastelloy C-276 and 316 L SS wetted parts.

A new fail mode indicator option, which allows users to choose an output signal that rails or drops during a fault condition.

Vented and non-vented versions are available, along with F250C female process ports for robust high-pressure process connections.