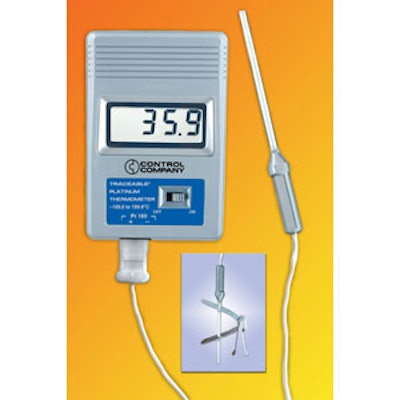 According to Control Co., its Traceable® RTD -100.0 platinum freezer thermometer accurately monitors temperatures in freezers, water baths, heating blocks, incubators and refrigerators. These thermometers further feature:
A temperature range from -99.9° to 199.9°C with a resolution of 0.1° and an accuracy of ±2°C.
A fast-response 100-ohm platinum probe for use with liquids, air/gas and frozen materials.
A 10-foot ultra-thin micro-cable that permits freezer doors to close on it without affecting the seal.
Thermometer and probe mounting via an adjustable probe holder, Velcro® and magnetic strips.
Inclusion of the probe, a carrying case and a 9-volt alkaline battery.
Traceability to NIST standards — the certificate indicates calibration test points of -80°, 0° and 100°C.
An individually serial-numbered Traceable® certificate from the company's ISO 17025 calibration laboratory accredited by A2LA to ensure accuracy.
Suitability for pharmaceutical, testing and measurement, research and development, environmental, manufacturing, engineering, pollution control, chemical processing, food, flow, HVAC and petroleum applications.