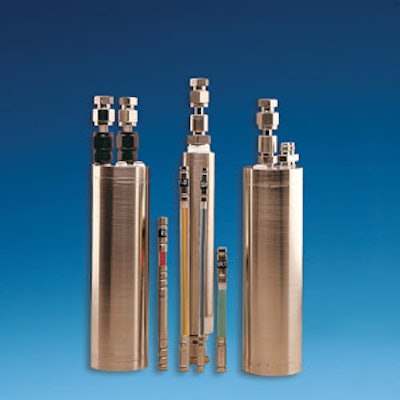 KIN-TEK's Trace Source™ permeation tubes are used to dynamically blend trace concentrations of formaldehyde in air. According to the company, the tubes are characterized by:
Mixtures can range from low ppb to over 500 ppm.

Alpha-polyoxymethylene, a high-purity formaldehyde polymer, decomposes to maintain a stable vapor pressure of formaldehyde and a stable emission rate of formaldehyde.

 

Formaldehyde emitted from the tube is mixed with a known flow of zero air to form the trace concentration gas standard.

Emission flow measurements are traceable to NIST through fundamental measurements (weight change, temperature, etc.).

 

Mixing the emission flow with a traceable flow dilution gas creates a traceable mixture.
sales@kin-tek.com

www.kin-tek.com