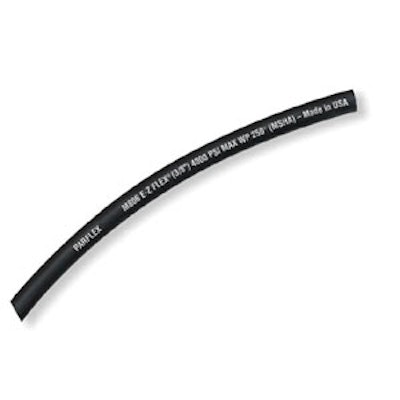 Parker Hannifin has designed its M8- E-Z Flex® hybrid hose to incorporate the best of thermoplastic and rubber hose constructions, offering a hose robust enough to handle high-pressure applications without compromising flexibility. According to the company, the E-Z Flex hose additionally offers:
2-wire braid construction with 4-spiral wire hose performance, allowing a tighter bend radius and easier handling.
The ability to handle synthetic and water-based fluids longer than comparable hoses, minimizing in-service problems and maximizing service life.
A 4-inch bend radius for a 5/8-inch inner diameter compared to competing rubber hoses of the same size that need at least 8 inches.
A low volumetric expansion as a result of mechanical bonding, rather than chemical bonding.
Clean tubes that reduce the need for expensive cleaning/flushing of hose assemblies.
A lighter weight, making is easier to route.