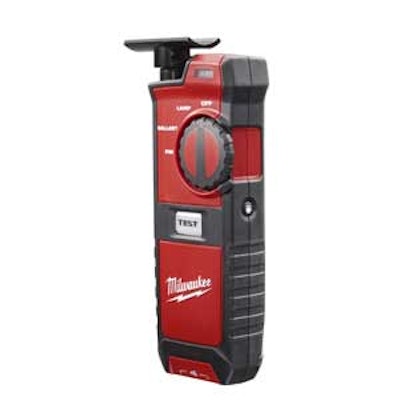 Milwaukee Tool Corp.'s Fluorescent Lighting Tester features the ability to test fluorescent gas, check pin connections and test ballasts, and allows professional Electricians and Building Maintenance Technicians to troubleshoot an entire building in half the time. According to the company, the tester also features:
A 2 1/2 foot, fully retractable antenna, so users can easily reach all lighting fixtures (since they will only change the lamps and ballasts that need replacing, users will save invaluable time and money).

A removable antenna adaptor to increase "flicker" response, audible and visual indicators for easy readings, a built-in LED work light to illuminate dark work spaces, and a rugged over-mold grip for increased durability.

The ability to test all T5, T8 and T12 fluorescent lamps and check pin connections on all T5, T8 and T12 lamps (it is optimized for T8 electronic ballasts).

2210-20 Fluorescent Lighting Tester, adapter, 4 AA batteries, manual and carrying case are included.