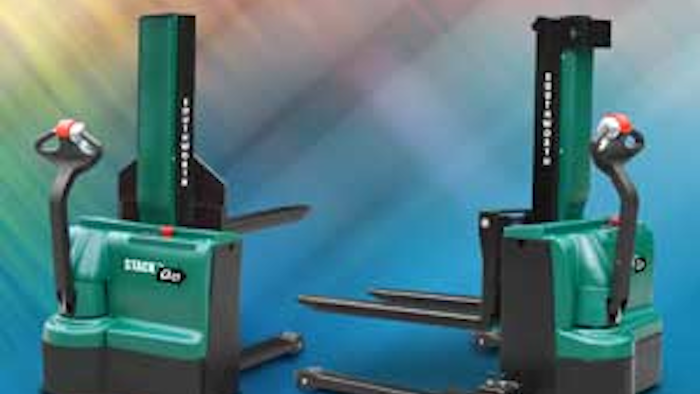 New Stack-n-Go™ fully powered compact stackers from Southworth Products Corp. are versatile, multi-purpose machines that offer a number of ergonomic features. According to the company, the stackers are further characterized by:
Built on short but stable wheelbases, they provide maximum maneuverability, even in tight quarters.

 

They are ideal for use in light manufacturing, warehousing, assembly and retail facilities.

They are suitable for transporting loads on pallets and stacking loads up to 7½ feet high, and they can also serve as adjustable workstations for loading and unloading.

They feature narrow, 62-inch-high masts and offset control handles to give the operator a clear view of what's up ahead.

The ergonomically designed handle puts all controls within easy reach, for maximum comfort and convenience.

 

Forward- and reverse-drive "thumb" switches are located on both sides of the handle to accommodate left- or right-hand operation.

 

An auto-reversing "belly switch" protects the user from potential injury when walking the unit backwards, while an automatic brake immediately halts travel when the handle is released.

 

Power is achieved via two 12-volt batteries, and a 110-volt built-in charger is standard.

They are available in fork-over design for use with open-bottom pallets and in straddle design for use with closed-bottom pallets.

 

One Stack-n-Go™ straddle model features a two-stage extendable mast that enables the unit to lift loads of up to 2,500 pounds 7½ feet high (90 inches); all other models have a lifting height of more than 3½ feet (43 inches) and a lift capacity of 3,000 pounds.

salesinfo@southworthproducts.com