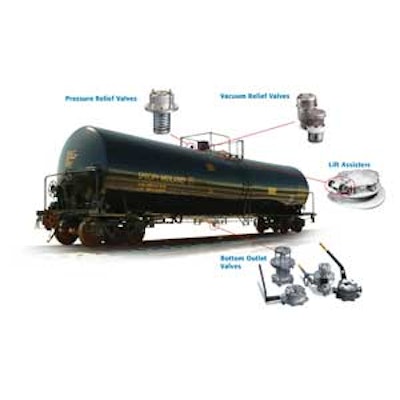 Midland Manufacturing now offers a full line of products that have been designed to deliver optimized performance and safety on crude oil railcars. The crude oil railcar package, which helps reduce the risk of an oil spill, includes:
Model A-522 Series Ball Valves — specifically engineered to extend service life, improve unloading times, and reduce cost without sacrificing operator safety.

Model A-2000 Series Internal Style Pressure Relief Valves — offer performance, reliability and flexibility of use in one easy to maintain, reliable product design for pressure containment.

Models A-210 and A-212 Series Vacuum Relief Valves — offer low-cost assurance that excess vacuum will not collapse or otherwise damage the tank car.

Double Spring and Single Spring Lift Assisters — engineered for versatility, durability and ease of use, and are available for use with either insulated or non-insulated manway covers, providing lift assistance up to 88 pounds to improve operator safety.