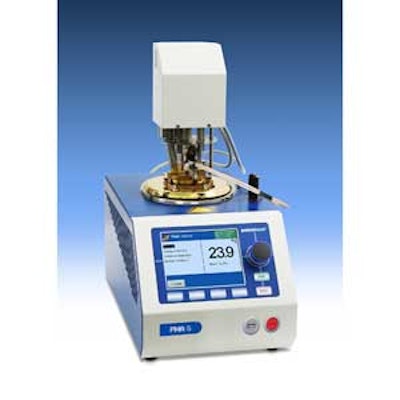 AMETEK Petrolab now offers the Petrotest PMA-5 Pensky-Martens (ASTM D93) flash point tester that performs flash point testing of petroleum products using the closed-cup ASTM D93 A, B and C methods. According to the company, the tester:
Is certified for both biodiesel and biodiesel blended fuels along with such distillate fuels as diesel, heating oil and kerosene, and such potentially flammable liquids as lubricating oils, paints and varnishes.

Is a highly versatile, bench-top instrument with an integrated fire extinguisher system.

Features an over-temperature protection circuit, a splash-proof membrane key panel and a built-in sensor for automatic barometric pressure correction.

 

Offers both gas and electric ignition options, standard.

Features a reduced time interval between two consecutive flash point tests through the convenient-to-use multi-function head.

Offers the ability to heat samples while the machine performs tests unattended; heating keeps samples with a high-melting point liquid at temperatures above 150

°

C, allowing for the immediate start of the stirrer when flash point testing begins.