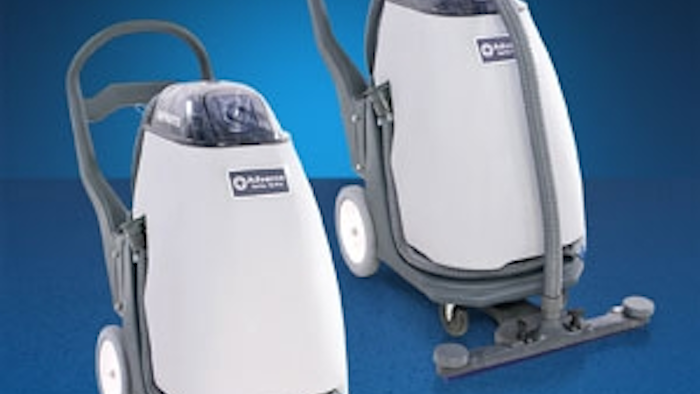 Advance's recently enhanced Sprite® 16 and Sprite® 16 Pro wet-dry tank vacuums are designed to provide faster and more effective cleaning. According to the company, the vacuums' features include:
Sprite® 16
Superior water and dry debris pick-up capabilities, eliminating the need for messy mops and buckets, and saving users significant time, labor, and cleaning expenses.

Faster water and debris pick-up than traditional manual pick-up tools, allowing operators to increase productivity by up to 80 percent.

A 24-inch front-mounted chemical resistant squeegee effectively cleans up to 11,500 square feet (1,068 m2) per hour.

Easy maneuverability enables operation right up to walls and into corners, picking up water and debris in both forward and reverse motion.

Dry pick-up mode permits users to either place a sock filter over the float assembly or insert a reusable cloth bag into the tank.

A washable exhaust filter maximizes dust containment, ensuring high indoor air quality.
Sprite® 16 Pro
For floor stripping applications, operators can employ the Sprite 16 Pro to efficiently lay down and pick up stripper solution.

Efficient operation cuts down the time it takes to lay down stripper by up to 50 to 75 percent, completing 5,000 square feet in 15 minutes on a single tank.

A unique 36-inch stripper dispensing tool ensures stripping solution is applied evenly.

Zero power is needed to operate the stripper dispensing tool, simply requiring an operator to pull the machine back.

The Sprite 16 squeegee conveniently replaces the stripping tool to easily suck up the stripper/floor finish slurry and any rinse water used.