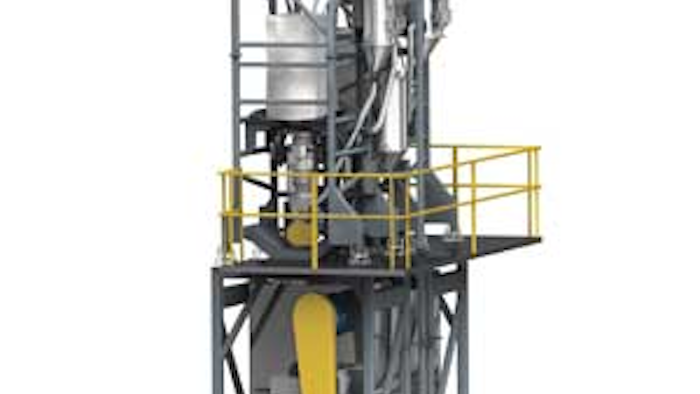 This bulk material-handling system from National Bulk Equipment feeds, meters and blends free-flowing dry bulk material and liquid minor ingredients at a 12,000-pound-hour process rate. According to the company, this integrated system additionally consists of:
Dual bulk bag unloaders, constructed of a 4- by 4- by 5/16-inch structural framework, each with a 4,000-pound frame capacity that meets or exceeds ANSI and ASME specifications.
Bulk bag-conditioning systems, built into the framework of each bulk bag unloader, to reduce total bag cycle process times by 25 percent, compared to free-standing bag-conditioning designs.
A liquid supply tank, built of 304-2b stainless steel, that discharges the minor ingredient into the blending hopper based the specific recipe and control instruction from the system HMI.
A 250-cubic-foot capacity blending hopper, constructed of 3/8-inch 304-2b stainless steel, which comes with an integral 14-gauge 304-2b stainless steel dimpled jacket that is ASME-inspected and code-stamped for -20° to 400°F and 125 PSIG.
A thorough material mix as a result of

 

the blending hopper's 10-inch solid mainshaft and double-ribbon agitator.
The company's controls and automation architecture, which enables standardized system integration to the facility's SCADA system.