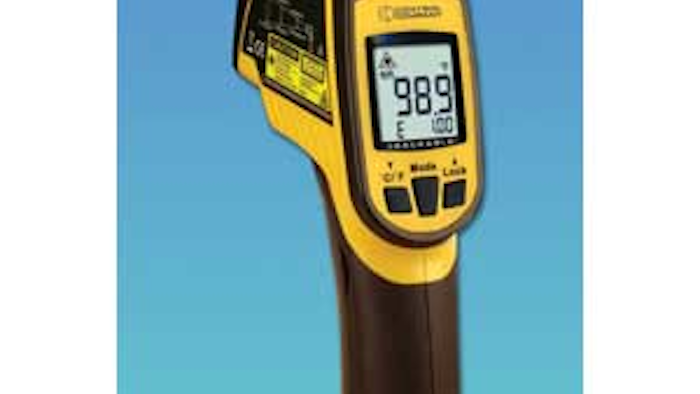 According to Control Co., its Traceable® infrared dual-laser thermometer, which comes with a Type K probe, is simple to use — turn it on, point it at a sample and take a reading in less than a second. Other features of the Traceable include:
The capability to read both Fahrenheit and Celsius on any surface, such as solids, semisolids and liquids.
A temperature range from -76 to 1,022°F and -60 to 550°C, with a resolution of 0.1°, and an accuracy of ±2 percent or 2°C + 2 percent.
A 12:1 field of view — for example, at a distance of 24 inches, the reading spot size is 2 inches.
A dual display that shows the current temperature, plus one of the following 8 modes — emissivity value, maximum memory, minimum memory, differential, average (time weighted), high-temperature alarm, low-temperature alarm and probe temperature.
Dual lasers to indicate the outer diameter of the surface area being measured, plus a white LED light to illuminate the surface.

 

The ability to display the average of all readings made while taking measurements and the difference between 2 readings.
Audible, user-settable high and low alarms to signal out-of-range conditions.
A display backlight to facilitate viewing in low light conditions.
An individually serial-numbered Traceable® certificate provided from the company's ISO 17025 calibration laboratory accredited by A2LA to ensure accuracy.
Non-invasive, no-touch measurements, which are ideal for food, life science, pharmaceutical, petroleum product, clean room, electronic and field-use applications.