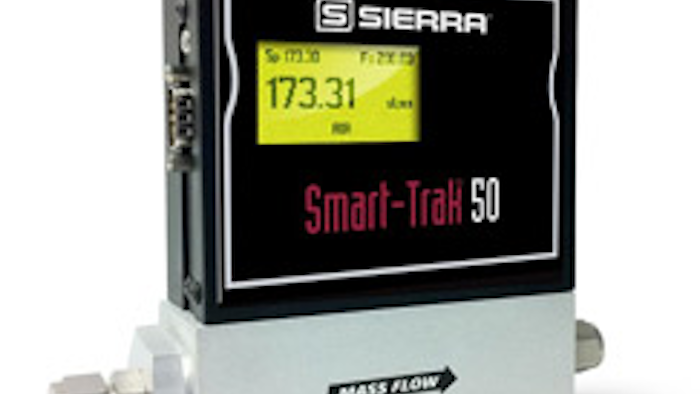 Sierra Instruments' Medium Flow Controller increases the maximum flow range of the award-winning Smart-Trak® 50 Series from 50 slpm to 200 slpm. The series:
Now includes the Medium Flow Controller, which is designed for OEMs who require higher mass flow control capability and advanced performance at a price point that meets their budgetary constraints.

Builds on the same core sensor, LFE and valve technology found in Sierra's flagship Smart-Trak 100 Series and is backed by Sierra's trademark personalized customer support.

Has a standard accuracy of +/- 1.5 percent of full scale that works for nearly all common semiconductor purge and carrier gases.

Features a flexible and powerful direct-acting frictionless hovering control valve that sets it apart from the competition by minimizing leak-by, while offering +/- 0.25 percent repeatability.

Includes the company's advanced 316L stainless steel platinum-wound capillary sensor technology that delivers the highest reliability, repeatability and stable accuracy.

Offers flexibility and simplicity of operation.

Is available with both analog and digital inputs and outputs, which enables the system to work with older analog systems or the newest multi-drop digital tools.

Features field adjustment of zero and span that enable the small adjustments in calibration necessary to align with on-site process conditions.