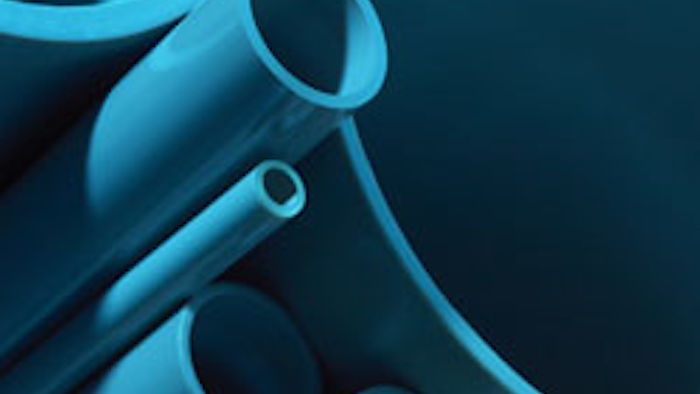 The VICTREX Pipes™ product family was developed to replace the corrosion-resistant alloys (CRAs) used to make pipes and piping systems for extraction and transportation in the oil and gas industries.  According to the company, the pipes additionally:
Feature a design which was developed after six years of intensive research, development, market assessment and customer liaison.

Have the ability to withstand extreme temperatures and corrosive conditions, and reduce weight.

Are available in a wide range of sizes, from 6 mm (0.24 inch) outer diameter, up to 200 mm (8 inches) outer diameter — with wall thicknesses depending on the outer diameter, from 0.8 mm (0.03 inch) up to 5 mm (0.2 inch).

Are available as straight lengths or, for smaller diameters, in coiled lengths of up to 3000 m (10,000 feet).

Can be joined by using a range of connectors and adhesives or conventional welding equipment, and they can also be laser-marked by suitable equipment.

Address the needs of the oil and gas sector to search for new fields in more demanding environments, have weight reduction capabilities that can facilitate fuel efficiency in the aerospace sector, and also address the harsh, corrosive, temperature and electrical demands of the industrial sectors.

Are lightweight and inherently halogen-free — with low levels of smoke and toxic gas emissions — ensuring they not only satisfy the stringent safety, quality and performance regulations within the aerospace industry, but also offer a significant weight reduction potential when replacing metals.

Offer electrical insulation, mechanical stability and fatigue strength, as well as chemical, corrosion and hydrolysis resistance at high temperatures.

Provide potential solutions to the numerous performance requirements of industrial applications, from corrosive and high-temperature conditions in chemical, geothermal and mining plant to insulation and protection demands in electrical and industrial sheathing.