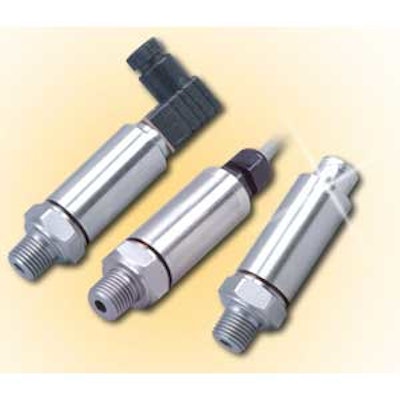 OMEGA Engineering introduces its PXM309 Metric Series stainless steel pressure transducer with:
A static accuracy of 0.25 percent and a 1 percent total error band over a compensated range of -20° to 85°C on ranges of 1 to 700 BAR.
All stainless steel construction.
Solid-state reliability that makes these transducers suitable for most industrial applications, as well as engine test stands. 
A 2-meter cable with flying leads.
A G 1/4 male metric fitting pressure connection.
3 electrical terminations from which to choose.
A mini-DIN connector or a 4-pin M12 connector.
Your choice from 2 outputs — either 0 to 10 VDC or 4 to 20 mA.
An IP65 environmental rating, in addition to

CE compliance.

A 5-point NIST-traceable calibration certificate.
Availability of ranges from 70 mBAR to 3.5 BAR with a slightly larger total error band.