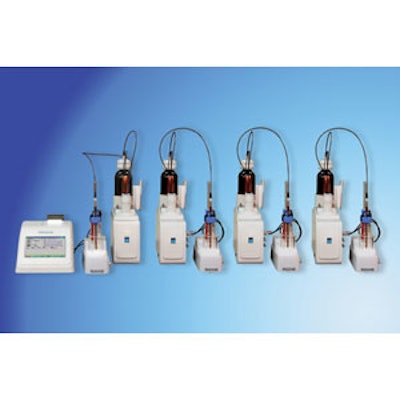 JM Science says that its COM-1700 potentiometric titrator allows up to 4 different titrations to run simultaneously in parallel. The COM-1700 further delivers:
Reliable high-speed communications without response time lag for real-time pH calibration and stability.
Quick and efficient automatic reagent exchange as a result of a new buret design.
A sample changer (which comes equipped with an automatic shut-down function) that accommodates a wide selection of test tubes, beakers and conical flasks.
Data download via a laptop or PC for storage, processing, reading, recalculation and redetection of titration results.
The capability to export data to several types of file formats, including Excel, CSV, HTML, etc.
A longer-life syringe with a top dead-center rest position and minimal dead space.
A buret head position sensor to eliminate improper assembly.
A large, color touch screen for easy monitoring of any station.
Easy data storage on a USB jump drive.
A built-in thermal printer with simplified paper loading.

A

compact design to reduce bench space by 25 percent.