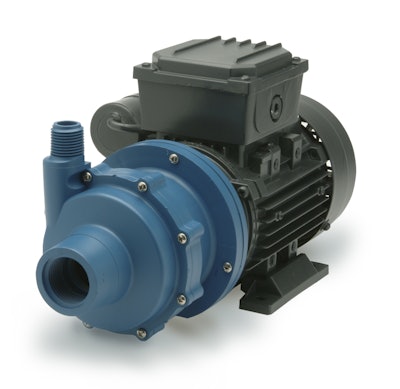 Finish Thompson has released 3 new pump models with the lowest flow performance available from the DB Series, yet with the same design enhancements of larger DB models. Moreover, the DB3, 4 and 5 pumps offer:
Powerful neodymium magnets for maximum performance and reliability.
An

easy-set

outer drive to ensure optimal magnet alignment without having to measure.
Capacities up to 19 GPM or nearly 35 feet of head.
Working pressures to 60 PSI.
Extended run-dry capabilities with a carbon bushing.
Polypropylene or PVDF construction to resist corrosion.
Suitability for aggressive fluids.
A seal-less design and high operating efficiency.
Availability with IEC 56/B14 or 63 /B14 motor frames, as well as 1/8- or 1/4-HP TEFC motors.
Horizontal or vertical mounting for greater application flexibility.
A 5-year warranty.