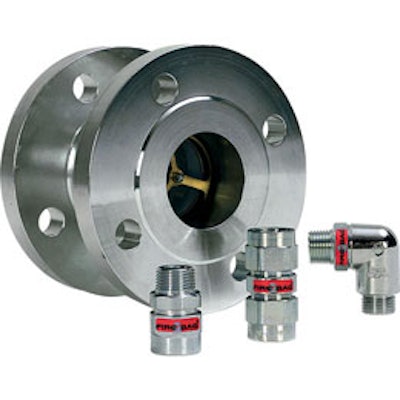 Assured Automation's new FireBag is a line of thermally actuated gas shut-off valves used to control the flow of natural, propane or butane gases. Many existing emergency gas shut-off devices require manual manipulation — a poor solution in emergency fire situations. The FireBag automatically discontinues the flow of gas when the ambient temperature reaches 100° C (212° F).
The FireBag domestic product line includes:
G4T404 for utility-supplied gas pipes, heating systems with radiant pipes, and hot air generators.
G2T50 for utility-supplied gas meters.
G4T10 for gas boilers and wall heaters.
G2T40 for gas appliances such as stoves (ranges) and gas radiators.
G4TF for thermal stations.
The FireBag industrial product line includes:
G4T404 for varnishing and paint booths.
TASF for gas motors.
G4TF for commercial ovens.